Here at Invoiced it is our mission to help small businesses get paid. We're making the latest payments innovations accessible to everyone, no code required. Today we're excited to release support for Bitcoin, an exciting new way for businesses to get paid.
"Bitcoin is an innovative payment network and a new kind of money. Bitcoin uses peer-to-peer technology to operate with no central authority or banks; managing transactions and the issuing of bitcoins is carried out collectively by the network." - bitcoin.org
One of the biggest hurdles today with accepting Bitcoin is that it's not convenient for a merchant to possess. That's why our integration lets your clients pay with Bitcoin and converts the payment into your native currency. It's completely seamless; no extra work is required on your part.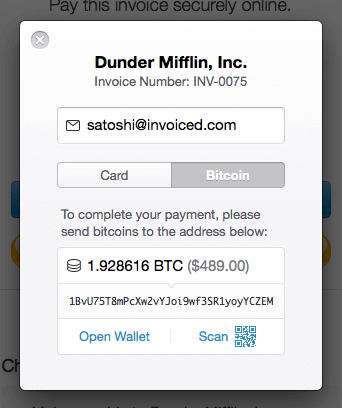 The advantages to accepting Bitcoin is that it allows you to accept payments from anyone from anywhere in the world. It's cheaper too! Bitcoin payments only cost 0.5% per transaction.
Our Bitcoin integration is powered by Stripe. All that's required is a connected Stripe account with Bitcoin enabled to get started. You can learn more about it directly from Stripe.
In order to start accepting Bitcoin today go to the dashboard and then Settings > Payments > Bitcoin and follow the instructions. Please see this support article for more information.
Happy invoicing!