Account Statements
Invoiced can now output account statements for your customers! When viewing a customer you can download a statement by clicking the More button and then clicking Download Account Statement. You can also get a statement by selecting Account Statement in the Reports section.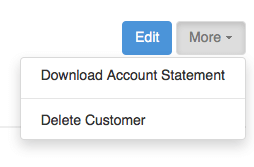 Detailed Customer Activity
A new Activity tab has been added when looking at a customer's details. The activity tab will show you the total billings for a customer, total receivables currently due, and a chart that breaks down billing activity over the last year.