QuickBooks is the most popular accounting software for SMBs, and Invoiced is the #1 rated accounts receivable automation platform. By integrating these two best-in-class solutions, you can easily manage your business AND excel at billing and collections.
With many QuickBooks users interested in supercharging accounts receivable and collections beyond the basics, we frequently get questions about how QB and Invoiced work together. Here are some of the most common questions and our answers:
Does QuickBooks already include A/R automation?
QuickBooks includes a handful of basic billing features that work for many small businesses. But for growing businesses with more than a few dozen customers paying by invoice, they quickly find that QB's built in features will only get them so far in covering the complete invoice-to-cash lifecycle. Once a business reaches a certain stage of maturity and volume, the included billing features of QuickBooks are no longer sufficient for maintaining healthy cash flow and efficient collections. That's part of the reason why QuickBooks promotes Invoiced in their app marketplace; they recognize that as their clients' business functions become more specialized, they are need of more specialized solutions.
What does Invoiced provide that QuickBooks doesn't?
Invoiced provides an end-to-end accounts receivable automation solution. That means you can put everything from invoice generation, to advanced collections reminders to payment acceptance and reconciliation completely on autopilot. You can literally set it and forget it, and our system will let you know if anything needs your attention.
How do I know if I need Invoiced instead of what's included with QuickBooks?
You probably need Invoiced if one or more of the following are true:
You've reached a level of billing volume that feels unmanageable.
You or your team are spending more time on invoicing, collections, payment acceptance or double entry than you'd like, or than you can afford.
You don't have enough time to use or manage the billing features included in QuickBooks.
You don't feel like you're getting paid fast enough by your customers.
You don't feel like you can tailor or customize all of the communications, reminders and payment experience specifically needed for your business and your customers.
Your business is growing (good!), but you feel like you might need to add more accounting or collections staff in order to keep pace.
What are some examples of valuable things I can do with Invoiced that I can't do with QuickBooks?
Invoiced is truly a platform, so there are virtually limitless ways to configure it to meet the specific needs of your business and your customers. Here are some examples:
Set up credit card convenience fees or minimums/maximums for various payment methods.
Create recurring late fees or early payment discounts for all customers, certain customers or certain invoices.
Connect your bank feed to automatically match check payments with invoices.
Automatically send out invoices via email, postal mail and text.
Configure different automated communication/reminder "cadences" for different groups of customers.
Create complex subscription plans with options like billing in advance or in arrears, usage based add-ons, pro-ration and renewal rules; create signup pages for customers to enroll in subscription plans.
Coupon codes, advanced sales tax rules and invoice customization.
Connect Invoiced with other systems like Salesforce, Slack, Zapier and more.
Detailed reporting and forecasting on key measures of accounts receivable performance.
Automated workflows and individualized task assignments for accounting teams.
How exactly does Invoiced connect with QuickBooks?
Invoiced includes a pre-built integration with QuickBooks. All you need to do is connect your QuickBooks account with Invoiced and we keep everything in sync.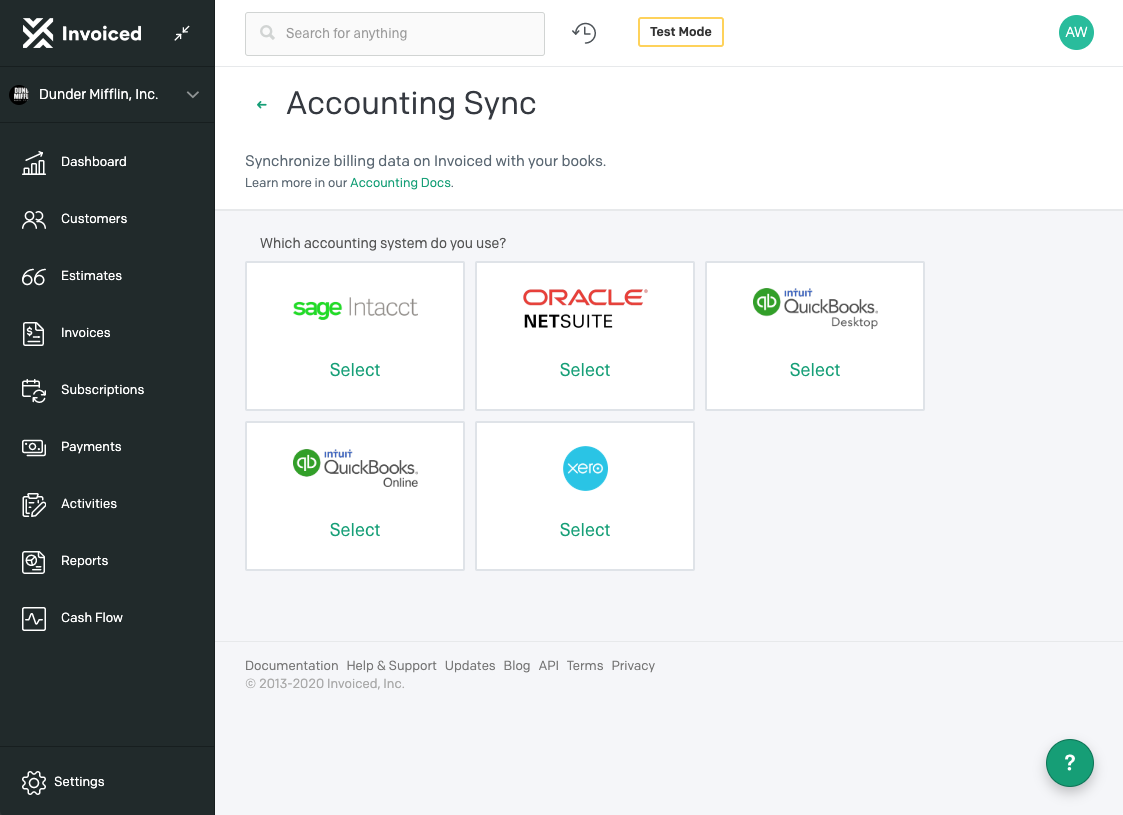 Invoiced will pull over all of the open invoices and customers from QuickBooks and get you paid in no time. We keep invoice status, payments, customers and more in sync so that you don't have to enter data in two different systems.
You can find complete details on how the integration works here:
Invoiced for QuickBooks Desktop