Invoicing in Xero is a pretty straightforward affair. Over the last year or so the company has been providing rolling updates to its invoicing experience. It's now a more streamlined part of Xero's solution that's meant to help users get straight to the point with billing and collecting.
Since Xero is an accounting system for small businesses, many of those businesses are also high growth and, in some cases, reaching practical limits of the software they chose when they were smaller or just starting out.
One area where we've seen small but high growth businesses reach a practical limitation with Xero has to do with a maximum number of invoices. According to the company, "Xero is designed for volumes of up to 1,000 Sales invoices," meaning ostensibly that the performance or manageability of Xero at that invoice volume may not fully live up to the user experience standard the company prides itself on.
So what are businesses talking about and doing relative to that limitation? We checked out Xero's Business Community and the Xero Central knowledge based and found a few possible approaches.
First, we came across a brief thread with someone asking about what happens when the 1,000 invoice threshold is breached.


We also found a few users who were running into Xero invoice limits when using their API.
And lastly, one community member needed to send out 1,000 to 2,000 invoices per week but was concerned about exceeding Xero's recommended 1,000 per month guideline. Their thinking was that they could find a third party to handle invoicing via an API connection with Xero.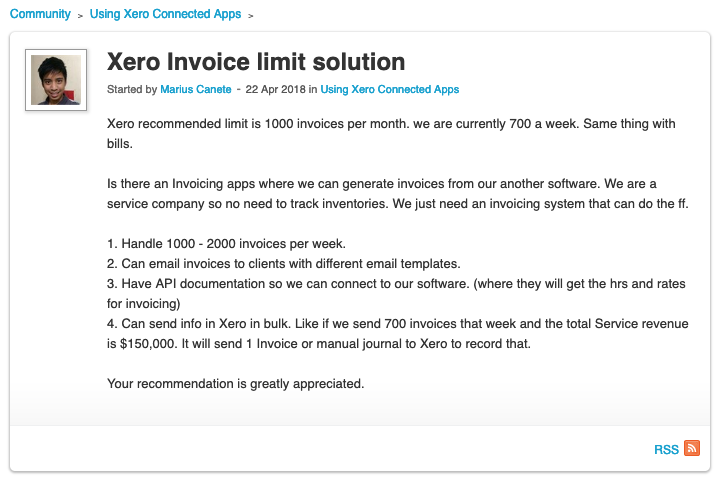 We at Invoiced, of course, love this last solution because it's what we do. In fact, with our enterprise solution we're helping many clients efficiently issue, chase and collect payment on literally tens of thousands of invoices each month.