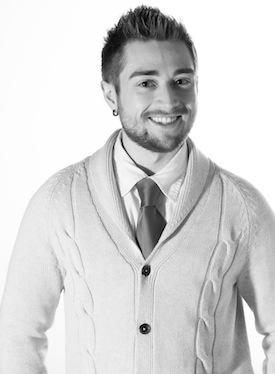 Ice Nine Studios is a design strategy studio that helps businesses and agencies skyrocket their inbound leads through web strategy, and deliver stunning proposals using Proposify. They are a certified Proposify partner that provides strategy services as well.
"That's what makes us unique," said Collin Belt, Chief Design Strategist and Founder of Ice Nine Studios. "There aren't a lot of companies that specialize in Proposify design, web strategy, AND conversion strategy."
Ice Nine Studios is a Canadian company with a satellite office in Florida, where Belt spends the bulk of his time. Typical clients, like a home staging company with 60 U.S. locations, use Ice Nine's Proposify design services to create original proposals for Proposify. "They can then impress their clients with really well-designed proposals," said Belt.
Belt's key challenges in invoicing his clients prior to Invoiced were currency conversion and chasing down payments. Ice Nine has clients in the U.S., Canada, and other countries across the world. Several of the billing platforms he tried only allowed him to bill in 1-2 currencies, rendering them useless for clients outside those locales.
Belt also spent a good chunk of time trying to get paid. "It wasn't because clients were unwilling to pay, but it wasn't convenient for them. We didn't have a payment portal or any automated reminders. And things got lost in email. A client might respond and say they are going to send an invoice to their accounting department, and they'd lose the email with the invoice."
While he was trying out invoicing platforms, Belt ran across a Facebook ad for Invoiced and decided to give it a try. "Invoiced was the only platform that did all things we needed it to do consistently," he said.
Clean design was one of the critical reasons that Belt chose Invoiced. "We're a web strategy and proposal design company," he said. "We want to send invoices to our clients and have them say 'wow!'." Having that level of presentation, as well as the ease of use, is an important part of overall process."
In addition to clean design and ease of use, Belt appreciates the following features that save him time and money:
Ice Nine clients now have access to the various payment methods via Invoiced, including PayPal, Stripe and ACH transfers. Having this access has allowed Ice Nine to convert to 100% upfront payments. "We couldn't do upfront payments before. People would have to put a check in the mail and it would arrive several weeks later. Now we get paid the same day or the day after."
The set of automated reminders in the Invoiced platform also takes away the manual burden of reminding clients to pay. "People pay on time now and that's the rule."
Invoiced's currency converter supports a wide range of international currencies, making it a snap for Belt to bill all clients (regardless of location) in one platform.
Invoiced's online portal with access to historical invoices removes the opportunity for Belt's clients to lose the invoice in an email thread. They can log in and download invoices whenever they need to, which saves Belt "a ton of time."
The ability to brand Invoiced with Ice Nine's logo and colors extends the brand into the invoicing experience with customers, and contributes to the "wow" factor.
To illustrate how Invoiced has impacted Ice Nine's workflow, Belt shares this sample scenario:
"It starts with a phone meeting with a prospective client to discuss their project. Then I send them a proposal using Proposify right after we hang up. They take a look at the proposal, submit their online signature, and I get a notification. Within 15 minutes I send them an invoice using Invoiced. It isn't unusual for that to happen all in one day."
"Invoiced has been extremely flexible in adapting to the change in our processes," said Belt. "The platform can handle small and large volumes of invoices. We recommend Invoiced to companies of any size."