Word of mouth has been an effective marketing tool ever since marketplaces have been in existence. How many times have you been in a conversation, and suddenly you or a friend start gushing about a favorite car wash, hair dresser, or even a phone app? It happens all the time.
With all of the technology available today, these types of recommendations can go beyond personal conversations and be recorded in written or even video form. They are called testimonials, and if used correctly, they can be a game-changer for any business. There's hard data to prove that testimonials work too - check out these stats:
90% of respondents who recalled reading online reviews claimed that positive online reviews influenced buying decisions. (Dimensional Research)
Nearly 9 in 10 consumers have read online reviews to determine the quality of a local business, and 39% do so on a regular basis. (Search Engine Land)
88% of consumers say they trust online reviews as much as personal recommendations. (BrightLocal)
Let's say you're at a friend's house, and your friend has a children's water bottle that you've never seen before. You ask about the new water bottle, and your friend describes how sturdy it is - her child throws it all the time and it never leaks.
And you can put it in the dishwasher! You ask your friend where she bought it, and you immediately go and buy it online once you get home. Getting this kind of feedback straight from your customers is not difficult - you just have to ask. Once you have testimonials, you can use them repeatedly across marketing channels to help attract new customers.
To get started collecting testimonials, first think about what types of products and services you offer and the different ways to ask for testimonials. There are numerous testimonial formats, and some fit better with certain products and services.
Asking for reviews on Yelp or Opentable is a good fit for a restaurant, as many restaurants are listed on both those sites. Facebook or Google reviews are suited for service-based businesses, like cleaning services or interior design (see photo example).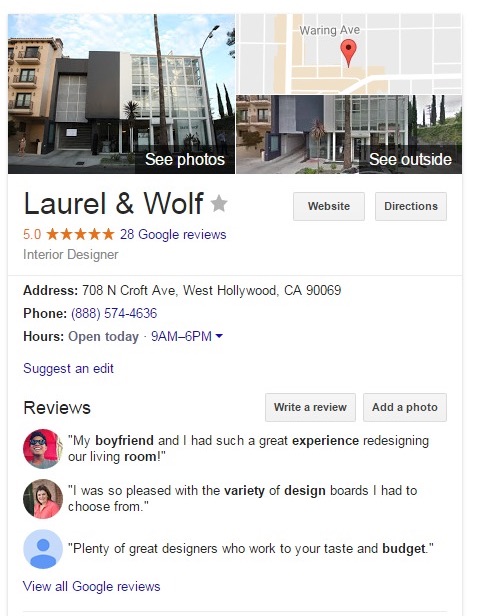 LinkedIn recommendations are perfect for individuals who offer business or consulting services and want testimonials in their LinkedIn profile. If you would like to tell a more targeted story about your customer's results with your product or service, consider asking if they be willing to participate in a case study (here's a sample case study from Insightly).
And don't forget about emails from and conversations with your customers, and even social media mentions on Facebook and Twitter. All these mediums can contain powerful compliments - you can either incorporate them into your marketing materials or just use them as a trigger to ask for a testimonial.
After looking at all the different ways to ask for testimonials, you may decide on several formats that would work for your business. Once you've decided on the appropriate formats, the best way to get testimonials from your customers is to make it as easy as possible. If you'd like to request online customer reviews, make sure to send an email to request a review from your customers.
The timeframe of the email is critical - it needs to be sent close to the time of purchase, but still allowing enough time for your customers to have used your product or service. For restaurant customers, you may want to send an email 1-2 days after a visit so their experience is still fresh in their mind.
If your product is a household tool or a phone app, you'll want to give customers some time to receive the product and use it before sending an email. The same goes for LinkedIn recommendations, case studies, email comments or phone conversations - ask when your customer has had time to process the experience with your product or service.
Experiment with different timeframes until you zero in on one that nets you the highest number of reviews. You can also test out the types of messages that appeal to your customers. Customers may be interested in recognition, a discount or coupon to incentivize them, or the altruistic value of helping other customers.
As part of your request for a testimonial, take the burden off your customer where you can. When asking for a review, state that you value your customer's business and would appreciate any feedback. Customers can get intimidated by lengthy reviews, so letting your customer know that 2-3 sentences (and no more than several minutes of their time) would be helpful may increase their likelihood of writing a review.
For case studies, make sure to outline the time commitment to your customer so they know exactly what they are getting into. In asking for the case study, let your customer know that you'll conduct a 15 minute interview and you'll need them to briefly review the case study document before it is posted on your website.
For emails and phone conversations, simply asking "may I quote you on that?" is an easy way to get permission to use their recommendation. Video is also an easy medium that is growing in popularity and effectiveness (take a look at these stats on video testimonials).
It only takes a few minutes to capture your customer's thoughts, and you can record them remotely using online video tools. Whatever you do, be prepared to be flexible. A customer who might balk at the time commitment or sensitive data included in a case study may be happy to give you a quote for your website.
Another customer might be willing to be quoted on your website as long as they remain anonymous. After gathering the required inputs for the testimonial, remember to thank your customer. Whether you decide to offer a physical item or just the words "thank you", make sure to show your gratitude.
So you've got some testimonials now. Customers are writing reviews for you, you have several case studies, and you're gathering quotes from conversations. The most important thing you can do is to spread those testimonials across as many marketing channels as possible.
Make the word of mouth marketing work for your business. Here are some of examples of how you can leverage those testimonials throughout your marketing:
Customer reviews do the legwork for you on external sites like Facebook, Google, Amazon, Yelp and the like. Leverage these reviews by bringing them onto your own website.
You can do this using plug-ins that will pull a given site's reviews directly onto a page on your website (like these two for Google and Yelp reviews). You might also consider implementing your own review platform if customers purchase on your site, or just requesting written testimonials (see image below).
You or a member of your staff should also read the reviews regularly. You'll find quotes you can use in other marketing (such as print media) and customers who might be interested in telling a longer story of their experience.
And let's say you decide you'd like a handful of video testimonials for your website. Customers who have already written reviews can be your target list, as they have already invested the time to give feedback and are more likely to do so again.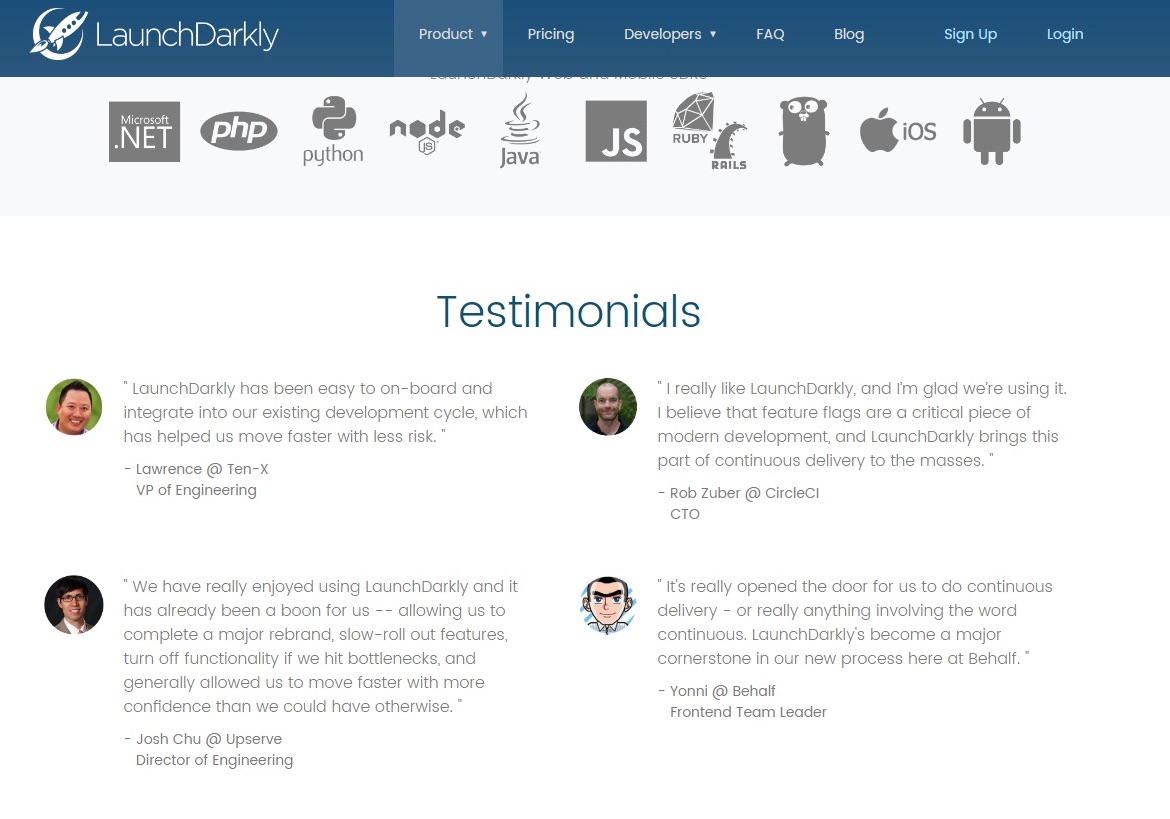 Customer quotes can come from various interchanges - phone conversations, email threads, and even twitter and Facebook comments. Make sure you and your staff are constantly on the lookout for these quotes, and always be ready to ask your customer for permission to use their words.
Set up alerts on any other platforms you frequent to make sure you capture opportunities to quote customers. Short customer quotes apply to many types of marketing, as they can fit in many places.
You can post them in various locations on your website, fit them into print media, insert them into email campaigns, use them in sales copy and many more. Here's a web-based customer quote on Pakible: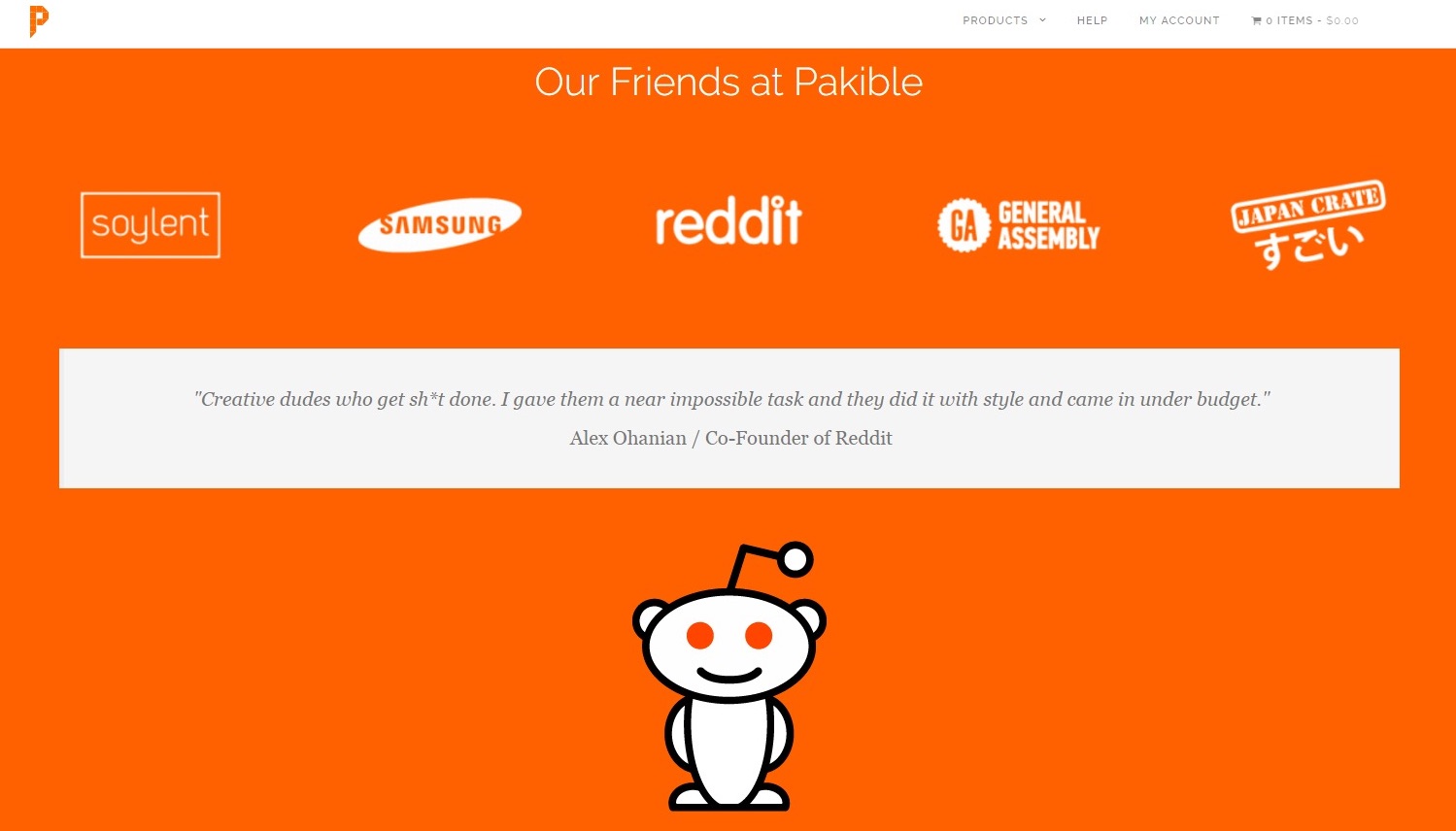 And a customer quote on a Rodale's email campaign:
Case studies are longer content pieces with information on the customer's business, the challenges they faced, how your product or service addressed those challenges, and the results the customer received. Case studies can be promoted in any marketing channel, and they are very powerful when they have numerical results. Here are a handful of ways to promote case studies:
Dedicate part of your

website

to case studies, and list each one in that section. Include the link in your navigation so customers can easily access it.
Use case studies (in full or pulling specific pieces) in

sales presentations and brochures.
Write a

blog post

on each case study to promote it with your blog readers.
If there are new or relevant findings in the case study, consider writing a

press release

to promote the case study in the media.
Review case studies regularly to pull out impactful data points and convincing quotes for inclusion in your website, email campaigns, customer newsletter, or any other marketing tools you use.
Customer testimonials are the most powerful sales tool in your arsenal. They are completely flexible and come in many shapes and sizes. The key is to educate yourself about your products and your customer base to come up with the right combination of testimonial types and frequencies. Once you know what and when to ask, let your customers' words take over and do your marketing for you.