Overview
Your website is a critical element of your small business. With the internet being nearly ubiquitous and mobile usage on the rise, having a substandard business website — or worse, no website at all — is a major gap in your business's marketing and branding. Whether you operate online or in a brick-and-mortar shop, your potential customers are looking for your business on the web; if they aren't finding what they need, they'll be less likely to visit and buy.
If your small business website needs an update or even a complete overhaul, make sure to include the right information on the new site. We'll break down the essentials for you here.
Consistent Branding
The number one thing to keep in mind with your website is that it needs to be consistent with your other branding and marketing efforts.
Think about an auto repair shop. If the shop has a brand-new, glossy building and markets itself as a high-end service destination for luxury vehicles, having a sleek and modern website might make sense. But a third-generation mom-and-pop shop that bases its reputation on trust, reliability, and convenience wouldn't be well represented by a cutting-edge site and might do better with a more traditional design, sans parallax and ghost buttons (a.k.a. flash and dazzle).
Consistent branding doesn't stop at the website. As you consider your site updates, take a 30,000-foot view of your entire messaging package. Are your advertising efforts consistent with your company message? Do your giveaways reflect the needs and wants of your customers? Are there other areas that need to be brought in line with your overall branding? How does your logo reflect your business today?
Think about everything that goes out your door, from email signatures to business cards to stationery and invoices. A service like Invoiced makes it easy to keep your branding consistent across all fronts by including features that allow you to customize each invoice with company logos, language, and more. The more tailored each aspect of your business is, the more your message will resonate.
Clean Design
Back when the internet was first taking off, websites were cluttered with pictures, graphics, fancy backgrounds, brightly colored fonts, and even music players. Quite a few notoriously bad business websites still exist, but those off-putting design elements are generally best left in the 1990s. Today's most successful websites are easy to read, easy to navigate, and often involve a white background, black font, and one or two colors as accents.
Think about modern websites you might enjoy using, like Facebook, Google (which sets a new standard for simple and streamlined), or even this blog. There tends to be an easy-to-read font against a white background, with accent colors highlighting the navigation menu and other important features or information.
While the general feel of your site should be consistent with your brand, you absolutely need a design that's easy to read and easy to navigate. If your design is an assault to the eyeballs and is difficult to navigate, it's unlikely to make a good impression and draw your target customers.

SEO or No?
There's a lot of talk (and misunderstanding) about the role SEO should play in your small business website. If you get a lot of traffic from the internet, whether you're web-based or not, it might make sense to emphasize SEO in your new site updates. There are plugins and tutorials readily available to help with this, and a knowledgeable web designer can also incorporate SEO elements into the design.
Ultimately, though, know that Google is constantly changing the "rules" of SEO, so while it's important to rank well in SEO (especially for connecting with mobile users), it might not be worth your time to put a heavy focus on it if web traffic isn't an important part of your marketing strategy (though there is always a place for web traffic in your marketing strategy, especially with mobile usage, and therefore foot traffic, on the rise).
Important Information at a Glance
There are some pieces of information that need to be easy to find, right on the home page. These include your business's name, contact information (such as phone number and email address), and the location(s) and hours operation if applicable. If people can't easily learn where and how to reach you, they're likely to bounce off your site and look for someone else. Not good for your bottom line.
You also want to be completely clear about what service you provide and/or what goods you sell. Whether this is laid out on the home page or made readily apparent through menu tabs, don't leave any room for ambiguity. Make sure it's clear and can't be missed.
Ways to Interact
The more you can engage your site's visitors, the longer they'll stay on the site, the more they'll learn about you, and the greater the likelihood is that they'll become customers.
After making your contact information easy to find (see above), make it easy to find any other information they need by including a search bar. Having an easily accessed search is more important than you may realize: being able to do a quick search and getting the right answer offers a positive user experience, which is obviously a good thing.
Another way you can engage your visitors is by including what's called a "call to action" on your homepage. This is where you encourage the visitor to take some further action with your business, whether it's signing up for your email list, calling for a quote, or bringing an exclusive coupon to your store.
This screen shot of H&R Block's home page gives a great example of a business website that makes key information readily available, includes a prominent search bar, and features several calls to action: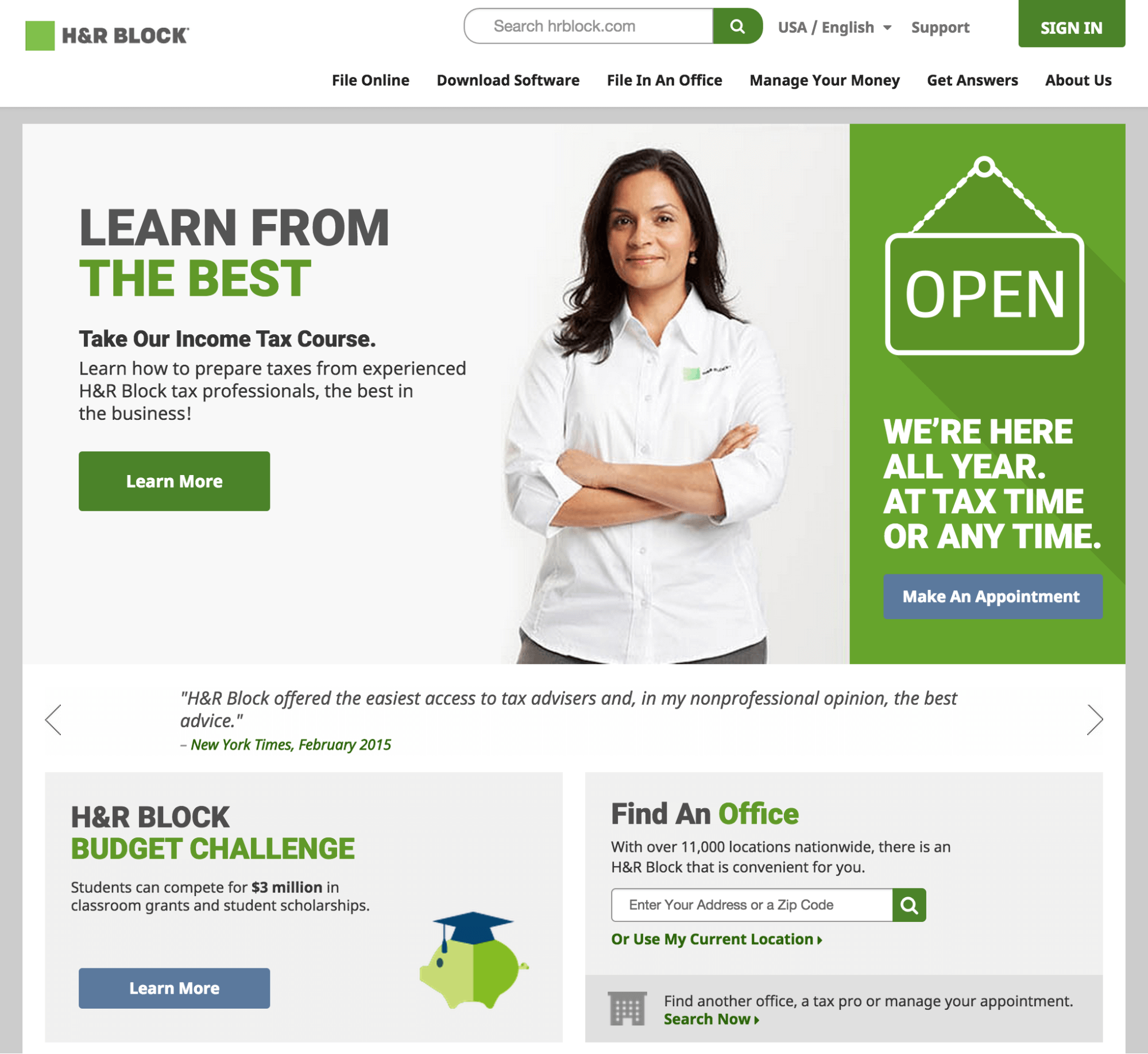 When You Should Design Your Own Small Business Website
One of the key considerations to make when thinking about a new website is whether to create it in-house or outsource it to a designer. There are benefits and drawbacks to each approach.
If you want your web design to stay in-house, you have a few options. If you or a staff member have coding skills, you can code your own site from scratch. Other options are to use a website theme that can be highly customized in a platform like WordPress, or to use a third-party platform like SquareSpace or Weebly, which offer templates that aren't as customizeable but make it easy to get your site up and running.
WordPress is the most popular website platform, and many web designers use it. One of the biggest benefits of WordPress is that it's easily customized through plugins (which require no coding experience) and simple code tweaks through their code editor feature. Plugins are easy to find and install, and they make it easy for people with no web design background to add features to their sites and collect useful data that they wouldn't otherwise see.
For example, installing a search bar can be done easily with a plugin, and these plugins can also keep track of searches your site visitors do. You can then use that information to improve your site and/or your business offerings.
When You Should Hire a Designer for Your Business Website Design
As you consider how to execute your new site, take into account how comfortable you are with technology, how much time you really have to commit to the project, and how complex you want your new site to be. It often makes sense to DIY a simple website, even on WordPress, but don't get in over your head just for the sake of "saving money" or "doing it all." This is one area that should be outsourced if you aren't confident in your skills and availability.
While web design services can become very complex and possibly have a hefty price tag attached, a designer takes the burden of web design off your shoulders so you can focus your time and energy on other things. If you're already swamped with work or you have no desire to learn how to build a website, outsourcing may be the best thing you can do.
Web design services are available from agencies, design firms, and individual freelance web designers. To find one, ask friends and colleagues for referrals to a good designer, or look for design information in the footer of websites you like. There are countless guides and tips online for hiring a web designer — one or two searches should equip you to find a good one.
Final Thoughts on Your Small Business Website
It should be no surprise by this time that your business needs a website, even if you operate a physical storefront or office. The ability to capture internet traffic, including mobile users on their smartphones, is a marketing opportunity that shouldn't be missed. While you don't necessarily need an expensive new website or a web designer on call to make constant updates to your site, you do need to be sure your small business website includes a few crucial elements.
Make critical information like your location and contact easy to find. Engage visitors with an effective search bar and a call to action of some sort. And while you're revisiting your web design, review your overall branding strategy to be sure all of your messaging is consistent. The more you're able to be useful and consistent, the more positively your visitors and potential customers will view your company — and that's good business.